IN RIBAUTE-LES-TAVERNES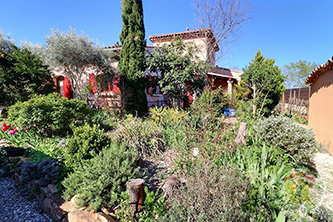 The gite "Au Bon Accueil" is located in a typical village of the Gard (southern France), between the Cevennes National Park (an UNESCO world heritage area) and the Mediterranean sea.
The Cevennes is close to several amazing places of interest: a bamboo garden (La Bambouseraie), the arenas of Nîmes, the Duchy of Uzès, the Pont du Gard (an UNESCO world heritage site).
The cottage is a really confortable place in the heart of a natural landscape. It's a guarantee of relaxation, osmosis with local fauna & flora and countryside pleasures.
During your stay, you can practice many activities such as hiking, pottery, swimming, mountain biking, river fishing, golf, horse riding, climbing on the Seynes cliffs, walking in the heart of typical Mediterranean villages such as: ANDUZE - SAVES - SAINT JEAN DU GARD - Uzes - VEZENOBRES...
And also visiting caves, wineries and vineyards, enjoying evenings and festivals in the villages, to meet inhabitants and discover their traditions.
The cottage is a 4 people full furnished place with a swimming pool (the pool is only shared with the renter).
The gite has a private entrance. There is a private car park near to the cottage.
Feel free to contact us for more information on the cottage and the Cevennes region.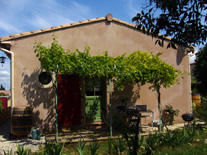 Josy THOREL will be really happy to welcome you!
Address: 6 impasse Jean Cavalier 30720 RIBAUTE LES TAVERNES France
Phone: 04 66 25 83 96
Mobile: 06 11 19 63 95
E-mail : josy.thorel[at]sfr.fr