DISCOVER THE CAMARGUE
The CAMARGUE GARDOIDE it's 40 000 hectares of ponds, marshes and lowlands. It's the home of local flora and flora: the black bull, the white horse and the flamingo live in a perfect harmony close to the sea.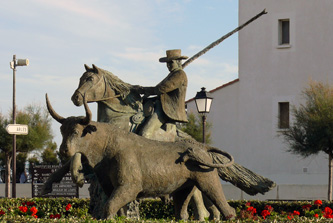 PLACES TO VISIT/POINTS OF INTEREST:
Nîmes and the arenas
The city of Uzes and the Pont du Gard
The Rhone Valley that faces to AVIGNON & VILLEUVE LES AVIGNON
The CEZE Valley with its Provencal landscapes and old buildings
The CEVENNES: ST JEAN DU GARD, more than 150 kilometers of non-motorized hiking trails in the footsteps of ROBERT LOUIS STEVENSON.
ANDUZE: the park with all the bamboos, magnolias, fountains, pottery. Visit the tourist office website of Anduze to www.ot-anduze.fr.
VEZENOBRES: a typical village. Visit the website of the village to: www.vezenobres.info.
MANY SPORTS AND ACTIVITIES FOR EVERYONE:
A TERRITORY FOR WALKERS with many hiking trails:
GR6 (Beaucaire, Anduze, Aigoual),
GR7 (Cevennes, Aigoual, Navacelles),
GR 42, GR 66...
A total of 6 000 kilometers of trails marked and preserved
Learn more about to: www.maisondelarandonnee.com

HORSE RIDING at Uzès National Stud

THE MECHANICAL POLE OF ALES CEVENNES: a full of excitement for fans of the wheel.

Canyoning and Aqua Hiking for climbers.

Let the wind carry on board a balloon

Practicing Canoe Kayak in dreamscapes.

Practicing ATV to ride freely.

Swimming in the rivers

FOR CHILDREN: trees climbing, the museum of train and toys, the little steam train of the Cevennes, the museum of candies, the Seaquarium, ridding on a donkey, the museum of dolls and Teddy bears.

MANY SITES TO DISCOVER: the Navacelles Circus, the Trabuc cave, the ethnobotanical gardens of Gardie, the bamboo garden, the museum of cycling and bike, the garden of bonsai arboretum, the Mazet gardens, the garden of Mas and Frigoule, the silk museum, the museum of Cevennes valleys, the showmine.
A PLACE FOR FRENCH GASTRONOMY:
Many regional specialities, some of its are recognized by an AOC. Among its, you can find Olive oil, cheese, cherries, olives, truffles, Garriguette strawberry, honey, asparagus...
The Cevennes is also a vineyard land with a lots of good wines:

The Domaine Camp Galhan. Visit the website to: www.camp-galhan.fr
The Domaine Rotonde Cavalier. Visit the website to: www.rotonde-cavalier.com
The Domaine du Grand Chemin. Visit the website to: www.domainedugrandchemin.com